One Word and Vision Boards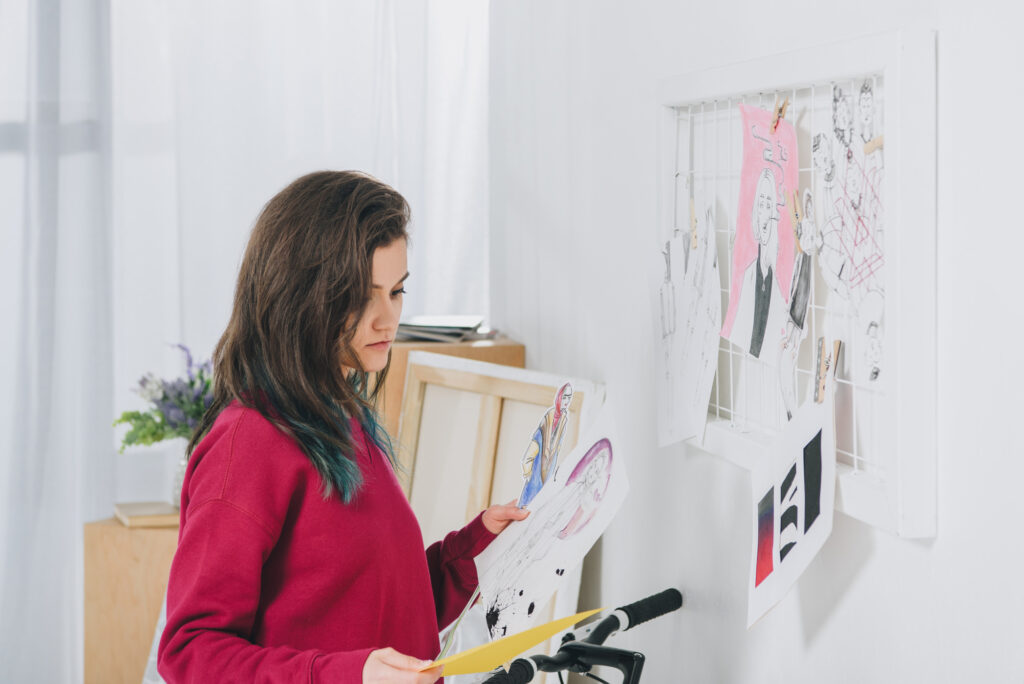 How to use vision boards to set and achieve goals
For the last several years, I have chosen a word in January to give me focus for the year. Then using the word as a theme, I create a vision board to provide focus for the year. Mid year is always a good time to review and reflect on how my goals and vision is taking shape.
Choosing the word takes a bit of thought.  I want it to stretch me and ground me at the same time.  I want it to encourage and inspire. 
One year my word was JOY and the  year I moved into retirement from my school counseling job of twenty years and into entrepreneurship, I chose, ADVENTURE. My word for 2021 is Grow.
When I teach a vision board workshop, I've developed a process for creating a vision board that involves much more than just picking some images you like and slapping them on a board.  Instead, we talk about how we might use the one word in our lives and what it  means to us. We envision our future and the steps it would take to achieve our goals. Then we create vision boards to represent our one word and how that word will impact our efforts.  This is a great way to create focus around a central theme. In fact it is so powerful, that I have clients who tell me years later that they still look at their vision board every day and reflect on how they will create their own future and their own success.
Supplies for a Vision Board
Creating a vision board is very simple.  You will need the following supplies:
Poster board or cardboard–any size is fine but think about what you want to do with the board to help you decide.  Sometimes a small board that you can take with you when you travel is a good  idea.  Or maybe you want a larger board to focus on each morning or even to  hang on a wall in your house.
Lots of magazines–you can ask co-workers, friends, or even professional offices for their cast-offs. Alternatively in this world of digital images, you can search for and print images off the internet.  
Rubber cement or glue
Markers, crayons, colored pencils
Fun stuff–glitter, feathers etc
Music to create by…
How to Create a Vision Board
Once you have the materials you are ready to go!  You can create the board alone in your home or get together with friends. Here's the process:
Peruse the magazines and tear out the pictures and words/phrases that catch your eye.  Make a stack.
Sort the items you selected and arrange the ones you like on the board.
Glue them down in the pattern/collage that you have created.
Add any decorative items that you wish–using gel pens, glitter, feathers etc. to finish your board.
Types of Vision Boards
You can create a board around a theme, a word, a goal or multiple goals.  You can use pictures, quotes, even photographs. There are no rules for vision boards.  Here are the basic vision boards that you could consider:
A board that centers around a certain goal. You might have a goal around getting a new job or losing weight.
A board that is more general and open to possibilities.  This might be a board that gives a certain feeling or atmosphere such as serenity or adventure.
A board that is created around a certain theme or even one word that will inspire you for a period of time.
A transition board.  This might be the board you would make as you move into retirement or motherhood or college or a new job.
How to Use the Vision Board
Put it in a prominent place.
Focus on the board on a regular basis.  Incorporate it into your daily review of goals and action steps.
Add to the board as you feel inclined.
I have used this activity in various workshops and training classes and it is always a hit!  Have you ever made a vision board?  How have you used it?  I'd love to hear in the comment section.
Want more strategies for stepping into your power and living an intentional life? Here's a workbook to help you gain focus:
Grab your copy HERE
Wonder how to restructure your life and actually accomplish your most important goal? I have a plan...
Dream Achiever: Not Your Average Vision Board Workshop
Your Mission: Your Why
Who You Want to BE: Your Core Characteristics
What You Will Do for Success: Your Action Plan
Your Vision for 2021
Date: Friday, January 22, 11-12:30
Dream Achiever: Get 'Er Done Goal Setting Workshop
4 Disciplines of Execution
Create Accountability Measures to Ensure Success
Personality Style
Create a System of Atomic Habits
Date: Friday, January 29, 11-12:30
Dream Achiever: Clarify Your Message
Determine Your Ideal Client
Use a 7 Point Framework to Write Your Story
Practice Sharing Your Message
Date: Friday, February 5, 11-12:30
Where: Zoom
Investment: $35.00 per session or $75 to attend all three sessions
This training has only a limited number of seats so register early!
Lynne's workshops are always interesting. Her topic is well researched and presented in a way that helps me understand and retain her message. ~Mindy Newman, LMT
This class really helped me to focus and make great changes in my life. ~Kay Rachelson, LCSW
It was a very good training to understand what we need to do from the very beginning on what each individual was looking for, how to get there.  Also, how and why we need to make change to get the results we want to achieve. ~Mary Braswell Williams
Dream Achiever Coaching is well worth the time and money. Lynne is a wonderful coach!  She offers priceless advice, encouragement, and support. She has personally helped reel me in to focus my time and energy appropriately and has also helped me achieve my dream of having an enjoyable, fulfilling, and successful business.  Amy Molley,  www.sensiblesensoryspaces.com/