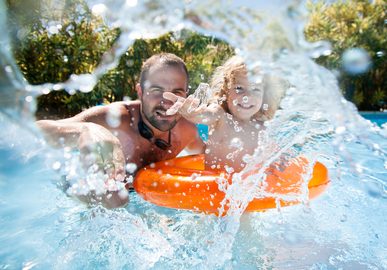 Measuring Goals
For many parents and teachers in the south, the summer is rapidly coming to a close and school will soon be starting.  This means that families are getting in those last minute vacations and activities.  Kids are counting the last days of freedom while many parents are counting the number of day until they are free again.  It's a mixed bag of feelings and energy.
Due to the ever present social media deluge, many parents and kids experience a fear of missing out (FOMO) as the summer ends. Scroll through your Facebook feed and you will see everyone you know posed on the beach or cruise ship or traveling with their team sport.  That's where the comparison begins.  Did you take a vacation as grand and exciting as your neighbor or friends?  Did the kids learn new skills at band or sports camp?  Did the baseball team win the championship?  Sometimes it seems that everyone else is living a celebrity like exciting life and in comparison your summer experience may seem mundane and dull.  Worried about what your child will write in their "What I did this summer" essay? Then you may have fallen victim to the FOMO virus.
Reflections on Your Daily Experience
What if instead of trying to have the grandest summer ever, you tried to be your personal best every day… summer included?  Rather than compare your summer to that of your Facebook friends, here is a better way to reflect on and review your summer.  In his excellent book, Triggers: Creating Behavior that Lasts/Becoming the Person You Want to Be, Marshall Goldsmith suggests that we all ask ourselves the following questions each day.
Did I do my best to:
Set clear goals?
Make progress toward goal achievement?
Find meaning?
Be happy?
Build positive relationships?
Be fully engaged and present?
This is a revolutionary approach to living each day because it takes the responsibility for our actions and feelings off of others and puts it squarely where it belongs… on our own shoulders.  No more comparing our day at home to the neighbors' day at the theme park. While Goldsmith is recommending these questions to adults, i think they are quite relevant to kids as well.  Here's what it might look like:
Spend time over the dinner table discussing these six questions.  Model for your children how these questions are relevant for your daily life as well as theirs.  Here are some examples:
What was your goal today? Maybe finish reading a book or create a new craft project?
What progress did you make?
How did you create your own meaning?  This doesn't have to be philosophical and deep.  Maybe you were being creative, social, learning something new or helping someone out.
Did you decide to be happy?  How did that turn out?  If you were unhappy, how could you turn that around tomorrow?
Did you build positive relationships with your family and friends?  What are some examples? What did you do that was kind?  helpful?
Were you fully engaged and present… did you give all your attention to what you were doing at the moment?
I know that these questions are challenging.  I've started asking myself these questions every day myself and some days I fall short.  But the important thing is to reflect, share and grow together as a family.  Let me know how it works out.
Wyatt's Little Book of Lesson Plans, Worksheets and Games
Just for you!  Here are activities, lesson plans, discussion questions, coloring sheets, word search puzzles and games for each of the six Wyatt the Wonder Dog Books.  Over 75 pages of ideas so that you can create lessons on cooperation, teamwork and leadership skills to quickly extend and incorporate the Wyatt stories.