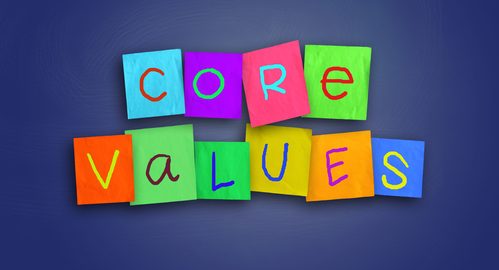 Choose Your Core Values 
Have you ever thought about what your personal core values are?
What about core values for your classroom? or for your family?
Would it make a difference if you knew your core values and practiced them?
In a previous post, I wrote about the  one question you can ask to encourage leadership skills in others.  An equally important question to ask that can frame the future and develop leadership skills  in children is, "What are our core values?" Another way to ask the same question that children might better understand is, "How do we do things around here and why"?
How do we do things around here?
In her book Grit, The Power of Passion and Perseverance, Angela Duckworth includes a chapter on culture and how the culture of an organization can shape who the individuals in an organization become. She uses the example of the  University of North Carolina's women's soccer team.  An example of some of their core values are:
We don't whine (we don't complain about anything on or off the field)
We are selfless (we play for each other)
We are disciplined (we do something related to our goal everyday)
We are focused (we want our years of college to be rich, valuable and deep)
Another example of a successful organization that has spent a bit of time clarifying their core values is North Point Church.  Here is an example of their core values:
1) Make It Better – Everyone on staff participates in making things better.
2) Take It Personally – Believe in what we do, be involved.
3) Collaborate – Don't be too proud to ask for help or too busy to be able to help.
4) Replace Ourselves – You'll always have a place if you are helping others move up.
5) Stay Fit – Our personal lives come to work with us. The more responsibility you have in an organization, the more important it is for you to stay fit – spiritually, physically, mentally, financially, and relationally.
6. Remain Open Handed – In a growing organization, there will be constant change. Effective staff and leaders have to be open to change.
As you can see core values don't have to be a list of dry meaningless virtues.  They can be phrases and examples of the kind of leader ship skills that we want to practice and who we want to become.
Now it's your turn… How can you identify core values for your family, your classroom or your team? Use these examples as inspiration but meet with the members of your group and brainstorm ideas.  Ask: How you would know if those values were being practice?.  When you are finished, anyone in your group should be able to easily answer the question, "How do we do things around here?" by relating the core values.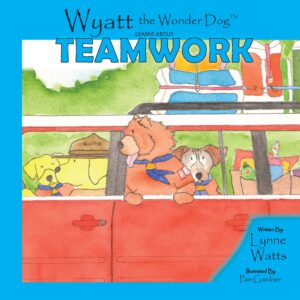 Camping with his Boy Scout Troop is exciting and fun… until Max takes a serious fall while hiking.  When Wyatt and the rest of the Scouts use their emergency training to get Max safely out of the woods, they learn the value of teamwork and the power of community to achieve big goals.
Wyatt the Wonder Dog Learns about Teamwork is another great example of helping kids improve their social skills. It teaches kids the power of working together and how much better we are when we work as a community.
~Melissa Toren Hrin, Professional School Counselor, Beverly Cleary School, Portland, OR
Wyatt Learns about Teamwork Lesson Plan and Activities on TPT