4 Secrets to a Stress Free Family Vacation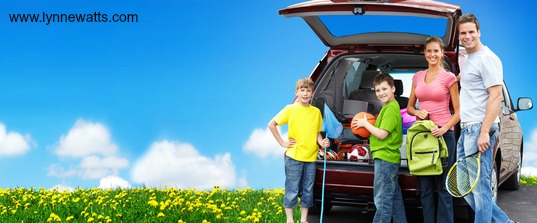 Family Fun or Family Frustration?
(This is a re-post from March 2015)
Anticipating your family vacation?
Looking forward to unplugging and enjoying some time off?
Keeping your fingers crossed that everyone will getting along?
Worried that it will be exhausting instead of relaxing?
Vacation Reality
Family vacations aren't always the stress-free family bonding time that you envision. Maybe the last time you took off on a get-away as a family, you returned more exhausted and on edge than ever.
I've been there:  left the daily routine eager for a fun filled but relaxing time away and found myself  frustrated and aggravated beyond belief as we drove aimlessly around a strange city arguing about where to eat dinner. There was one memorable trip to California  where we strolled through the spectacular awe-inspiring redwood forest of Muir Woods, while my young children whined and continuously asked, "When do we get to go to the gift shop?"
Is there a way to create a stress free family vacation where you leave behind the baggage of aggravation and worry?  Follow these tips, and you'll be on the road to a family vacation that's smoother than those bumpy rides of past trips.
Set a budget
Before you make any decisions about your family get-away, determine your travel budget for the trip. Nothing kills the fun of a trip than arguing about the cost or even worse putting it all on a credit card that you dread opening when you return. Plan the larger costs first such as the flight, the hotel and car rental.  Then set a daily budget for meals and entertainment.
Be sure to check out the costs for the local restaurants and other activities you know will be on your agenda as you determine a reasonable daily budget.  Don't forget to include an extra emergency fund for unexpected expenses.
Plan together
Our best trips involved the whole family in planning.  While polling for ideas and activities doesn't mean a trip that meanders from gift shop to gift shop per my daughter's request, it does mean that you can include activities that appeal to everyone. It also means that you will plan a vacation that is more age appropriate and avoid unrealistic expectations for behavior and interest levels.
Moms and dads are still in charge of the final decisions and it is a lost cause to try to please everyone at all times. You might find though that your kids are more interested in a lower cost, easy to plan trip like exploring a nearby state park than they are a trip across country. Take into consideration your child's personality style, interests and energy level as you plan.
Continue a routine
I know that vacation typically means late nights and sleeping in.  However, especially with young children, consider keeping a similar schedule and routine to what you have at home.  Children thrive on predictable routines so be spontaneous with activities but keep a consistent bedtime, meal time and mid-day rest to prevent meltdowns due to exhausted kids and parents alike.
Resist the urge to do everything possible in a few short days and instead schedule some down time just to relax and play.  Plan to arrive back at home a day early so that you can get back into the regular schedule before returning to work and school.
Identify behavior expectations
Be clear about positive behavioral expectations and share them just as you share your trip itinerary with your children.  Plan ahead and set boundaries for what children will be allowed to do and not to do.  This way you aren't constantly saying no throughout the trip and having to make snap decisions on what is possible.  Planning ahead for behavior is just as necessary as planning ahead for the trip details.   
Most important of all, enjoy the time together, be present in the moment and don't sweat the small stuff. Rather, have fun and play with your crew as you create new memories together!
Related Posts:
3 Ways to Make the Most of Your Summer
5 Ways to Create a Summer of Renewal
Create Summertime Memories Through Writing
Want to know how to communicate best with your child's unique personality style?  Check out the Parenting with Heart ebook available in the Wyatt store!
Wyatt wants to play Frisbee. Max wants to build a fort and Callie wants to have a tea party. How do the three friends reconcile their differences? Can it be done?  When Wyatt doesn't get his way, Max's mother suggests he be the Superhero for the day. Join Wyatt as he learns how the magic of cooperation and compromise can bring the five friends closer together.
Please follow and like us: