3 Ways to Develop Resilient Kids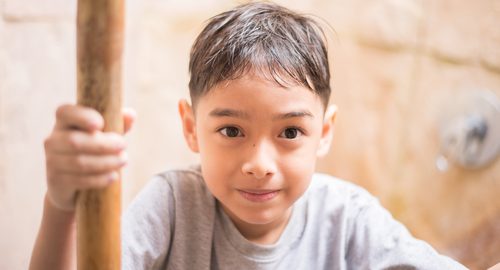 Tuesday, February 7th, I'll be attending an event raising money for a thirteen year old boy who experienced a brain injury after a biking accident.  In a networking group this week, I talked to a business owner who has had cancer of the eye, his daughter has recovered from a brain tumor and his wife is a breast cancer survivor.  While you probably don't know these individuals, I bet you know someone who has had similar challenges to overcome. Sometimes it is a physical challenge, sometimes it is an environmental challenge and other times it is a mental challenge.
After talking with someone about personal challenges like this, I always ask, "What is it that sustains you and gets you through the  experience?"   I get a lot of answers but if I were to summarize the attributes of a resilient individual I'd list the following…
A growth mindset instead of a victim mindset–Individuals who believe that change and growth is possible stay engaged in practices that help them overcome their current circumstances. They follow treatment protocols, they ask for help and guidance, they set goals and follow the steps necessary to attain them.  Individuals with a victim mindset give up and allow their  circumstances to control the outcome.
A community environment instead of an isolated environment–Community can take many forms.  For some it is their faith community while for others it is their family or friends and co-workers.  Regardless of who makes up the support community, resilient people don't try to go it alone.  Difficult as it may be, they learn to ask for and receive help.  They share their struggles with others.  Not only do they reap the benefit but often their challenges pull the community closer together as well.
A personal sense of purpose and identity instead of low self-esteem— Resilient individuals believe they have something unique to offer and they are determined to make a difference in their world through their strengths and skills.  They take failure and hardship in stride as part of the necessary road to success.  They don't let their circumstances define who they are but maintain a strong sense of self and purpose. They don't waste time wishing their life was easy and problem free.  Instead they allow their situation to help them develop mental and physical muscles that sustain them through the tough times.
How can we as parents and educators instill resiliency in our children?
Foster a growth mindset–Encourage children to see obstacles as challenges to be overcome.  Instead of asking, "Why me?" teach them to ask "How can I learn from this?"
Create a supportive community–We all need encouragers and teachers in our lives. Don't wait for a crisis to establish a community in your life or your children's lives. Develop systems of support and be that support for others as well.
Develop a personal sense of identity and purpose–Help children develop a sense of who they are as worthwhile individuals with something to offer the world. Challenge them to learn from failure and celebrate success.
Related Posts:
Developing Resiliency:  The Story behind Kid President
Before there is Grit, there is pain
5 Ways to Help Children Develop Grit
Want to bring the Dream Achiever Academy Training Program to your school? Here's how:
Dream Achiever Academy Educator Training
Dream Achiever Academy Parent Training
Wyatt the Wonder Dog Learns about Winning
Wyatt the Wonder Dog didn't make it on the All Star baseball team and he feels like a loser.  All  his friends will be playing baseball this summer, while he and his pesky sister, Callie, visit grandparents at the beach.  How Wyatt learns to handle disappointment and failure will be an important lesson for the future.  Will he give up trying new things?  Will he have the confidence to try again?  Are there some things that take more practice and persistence to learn than others? 

Wyatt the Wonder Dog Learns about Winning (Wyatt the Wonder Dog Books) (Volume 5)
Please follow and like us: